Welcome to
Itoku Akitas
(to benefit from ancestor's virtue)

We are a small home based kennel dedicated to ONLY the Akita. As our name states, we are
developing a breeding program that benefits from ancestral characteristics, producing good
temperament and type. Our goal is the continued preservation & perfection of the Akita Breed.
We are also interested in the acceptance of Japanese type along with American size and movement,
avoiding all hereditary weaknesses.
Please visit our site:
We currently don't have any puppies or adults available, but please check back for future notices.

Thank you.

Our Girls
Our Boys
---
Our Previous Liters:


Kali and Cory Puppies, born 4 December 2003


Bijon and Tiger Puppies, born 16 August 2002


Kali and Kuma Puppies, born 30 October 2001


Kali and Shere Khan Puppies, born 8 October 2000
Interesting Links:


Akita Club of America


Akita Temperament, author: Sherry E. Wallis


American Kennel Club


Breeding, Whelping, and Rearing Puppies FAQ, author: Liza Lee Miller


Japanese/English Dictionary
(once you are there, change the output to ROMAJI, then start your search)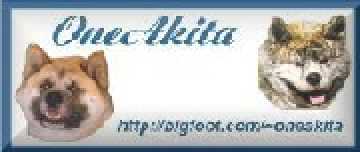 One Akita
Shows: Other Resources:
AKC Events Calendar Akita Resource Center
Jack Bradshaw Dog Shows
Jack Onofrio Dog Shows
Merchandise:
Future
Care-A-Lot
Foster & Smith
Pet Edge
R.C. Steele
Revival Animal Health
contact the webmaster at:
dargraves@bellsouth.net
Please reference Akitas or Puppies
in the subject line of your e-mail.
This page was last updated on 02/24/13.

Itoku Akitas is located in Pearl River, Louisiana
985-863-1985